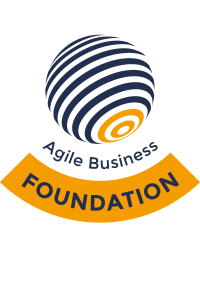 Agile Business Foundation
€ 60
Certificate
The Agile Business Foundation (ABF) certificate is meant for people who work with Agile and Scrum in a non-IT context. The certificate establishes your knowledge of Scrum basics and allows you to distinct yourself from others who cannot demonstrate their expertise with a recognized document.
Target group
The BAB certificate is intended for professionals who recently started Agile- or Scrum working in a non IT-environment. You do not need to have in depth experience with the application of Agile and Scrum, but you do need to know the theoretical basis. Please make sure you study the curriculum extensively.
The certificate offers added value for anyone who:
Works in a team and wants to streamline collaboration between members
Is a project manager and wants to extend or demonstrate their project management knowledge
Examination
The exam will be taken online
The exam will be taken in the English language
40 questions in different question formats have to answered within 30 minutes
32 questions need to be answered correctly to pass
There are no entry requirements
Pricing
Costs of certification are €60 (including taxes) for each attempt. The certificate has no expiration date and is valid indefinitely.
Preparation
It is not mandatory to take a course with any of the official partners of the IIABC; if you have in depth knowledge of the material and are comfortable with taking the exam you can do this online directly or at any given moment. However, completing a relevant course does significantly increase your chances of passing the exam.
Do you have questions about this certification? Contact our location in the Netherlands at 020… or send an email to info@iiabc.org